Kailai Flat Bed 4 Axles Semi Trailer for sale
No.: Kevin-0305
Vehicle Type: Container Semi-trailer
Brand Name: KAILAI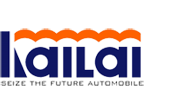 Details
Kailai Flat Bed 4 Axles Semi Trailer for sale
Specification:
Dimension
(L*W*H/mm) 12400*2500*1500
Main Beam
☆Heavy duty and extra durability designed, opting for high tensile steel Q345.
☆500mm height; Top flange 16*140mm; Middle flange 6mm; Bottom flange 16*140mm, Side beam 18
Tare Weight: should be within 5800 to 6200kg
Floor Steel 3mm.
Capacity: 40T
King pin ☆JOST brand 2" standard welded style
Landing gear ☆FUWA 19"heavy duty landing gear
Axle ☆ Four pcs FUWA brand 13T axle,10 hole.
Suspension ☆American system 90*16mm, 10 pcs
Tire ( Wheel Rim)
☆9 units of 10.00R20 Steel Tire, include one spare tyre.
☆9 units of 7.5-20 Wheel rim
Twist Lock ☆12 nos of ISO twist lock for 2*20ft; 1*40ft container, 1*20' container the central locks can be laid down.
Brake
☆One unit of WABCO RE 6 relay valve; two units of T30/30 Spring brake chamber; two units of T30
Spring brake chamber.
☆One units of reliable local brand 45L air tank.
Electric: ☆International standard 24v circuit 7-pin ISO socket; Tail lamp with turn signal, brake light & reflector,
side lamp etc. One set 6-core standard Cable.
Painting:
☆Sand blasting processing clean rust
☆1 coat of anticorrosive primer, 2 coats of finish urethane paint
☆color: Yellow
Other: ☆One spare tire holder;
☆Distant from King pin to the front part: 450mm
Packing ☆Cut rear part of trailer about & load it in 40HQ container, fit it by screw in destination.
☆One container carries two units.
Payment Term: T/T 30% of total value as advance & 70% by LC at delivery time.
FREE Inquiry Now
If you have any questions, feedback or comments, please fill out the form below and we will reply you back as soon as possible.