Summary Chinese Truck Sales in 2012
10 Jan 2013
Chinese truck sales last year were heavily influenced by the general weak state of the economy as well as rising
material and labor costs. According to statistics collected by Gasgoo.com (Chinese), a total of 3.31 million trucks
were sold in the country in 2012. The figure represents negative year-on-year growth of 6.8 percent, and marks the second consecutive year in which Chinese truck sales fell.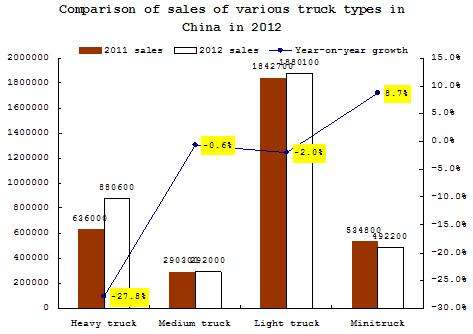 Heavy truck sales, being most linked to other segments of the economy, decreased the most last year. Only 636,000 heavy trucks were sold in 2012, 27.8 percent less than the amount sold the previous year. They made up less than 20 percent of all trucks sold over the course of the year.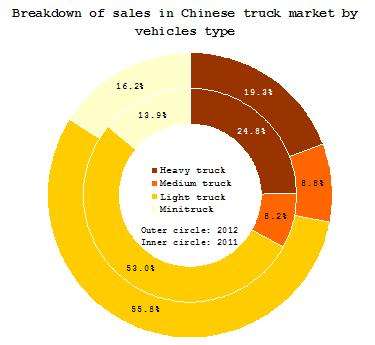 Sales of medium and light trucks also experienced negative year-on-year growth, but their performances were much better than that of heavy trucks. Light trucks continue to be China's most popular truck time, constituting 55.8 percent of all truck sales in the country.
Minitruck sales, meanwhile managed to increase over eight percent from 2011 to 2012, and made up 16.2 percent of Chinese truck sales last year.
The heavy truck market in 2012 was still dominated by the same five manufacturers from the previous year: Dongfeng Motor, Sinotruck, FAW Group, Beiqi Foton and Shaanxi Automobile. The top five manufacturers' yearly sales were all above the 80,000 unit mark, while other companies failed to break the 30,000 unit barrier.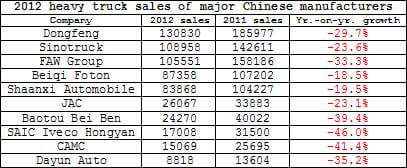 Heavy truck sales of all of the ten top truck manufacturers suffered negative year-on-year growth of 20 percent or

more. Some of the smaller manufacturers, such as SAIC Iveco and CAMC, even reported seeing their heavy truck sales fall by over 40 percent.
The minitruck segment was a lot more forgiving last year, with major manufacturers SAIC-GM-Wuling, Dongfeng and Beiqi Foton all reporting positive year-on-year sales growth. The three companies, along with Changan Automobile, produced 82.9 percent of all of China's minitrucks last year.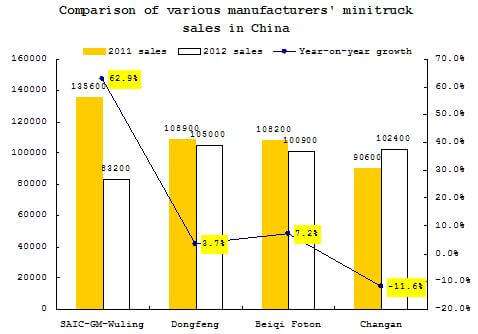 SAIC-GM-Wuling's performance was the most astounding, with its minitruck sales increasing nearly 63 percent over the year, pushing it to the forefront of the segment. Dongfeng and Beiqi Foton's minitruck sales also increased, while Changan, which was the country's third largest minitruck manufacturer in 2011, saw its sales fall 11.6 percent.