Hot Sale 5 Ton SEM Wheel Loader
No.: Robin-036
Vehicle Type: Wheel Loader
Brand Name: SEM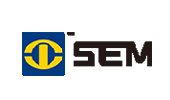 Details
Person in charge: Mr.Robin Jiang
Tel: 0086-532-80903896-813
Cel: 0086-18153209791
E-mail: sales28@chinatruck.cc
Hot Sale 5 Ton SEM Wheel Loader
| | |
| --- | --- |
| Main Specifications |   |
| Rated Load Capacity | 5,000 kg |
| Operating Weight | 17,100 kg |
| Bucket Capacities | 2.7-4.5 m³ |
| Overall Dimensions L*W*H | 8247x3068x3416mm |
| Engine |   |
| Model | WD10G220E |
| Rated Gross Power | 162 kW/217 hp |
| Peak Torque | 920 Nm |
| Operating Specifications |   |
| Max.Rimpull | 157 kN |
| Breakout Force | 163 kN |
| Hydraulic System Pressure Setting | 19 MPa |
| Hydraulic Cycle Times | 10.4 s |
| Steering System |   |
| Steering Angle Left/Right | 38º±1º |
| Minimum Turing Radius Over Rear Tire | 5,917 mm |
| Minimum Turing Radius Over Bucket | 6,931 mm |
| Transmission | SEM TR200 |
| Type | Countershaft Powershift |
| Gears | F4/R4 |
| Axle |   |
| Brand | SEM SO32 |
| Front | Fixed with Calipers |
| Rear | Fixed with Osc.Frame and Calipers |
| Brake System |   |
| Service Brake | Dry & Caliper, Air-to-Oil Control |
| Parking Brake | Drum-Type Shoe Brake,Spring Applied &Air Released |
| Tires |   |
| Size | 23.5-25 |
| Type | Bias |
After-sale Service:
Any small question will be solved at the most prompt time.
For more details, please just feel free to contact me.
FREE Inquiry Now
If you have any questions, feedback or comments, please fill out the form below and we will reply you back as soon as possible.